Greeley
Greeley Septic Tank Service | Septic Tank Pumping | Inspection Reports | Septic Tank Repairs | Evans | Kersey | La Salle
Sep-Tech provides the best septic tank services in Greeley, Colorado. The city is right in the backyard of Sep-Tech's headquarters, and owner Joe Reed has been proud to serve the folks in Weld County with professional and affordable septic tank pumping and repair since 2006. In addition, Sep-Tech serves all of the rural areas surrounding Greeley including Eaton, Lucerne, Evans, Kersey and La Salle.
Maintaining the condition of your septic tank should be a priority for any homeowner or commercial property owner. Over time, scum and sludge will build up in your septic tank. Without regular checkups, this buildup can cause your septic tank to overflow, or fail entirely. When a septic tank fails, the results can be catastrophic, resulting in overflow of your septic drainage which can be hazardous for your property, affecting value and safety.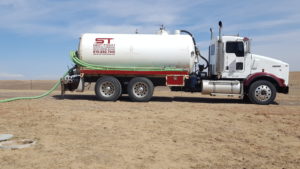 By scheduling regular septic tank inspections and pumping, you can avoid costly repairs and clean-up like this. Sep-Tech is a locally owned and operated septic tank company in Northern Colorado that can perform everything from septic tank inspections to pumping and repair. Don't wait for something to go wrong with your septic tank. Preventative care and maintenance is the best way to save money in the long run.
Call Sep-Tech today to schedule your septic tank inspection or septic tank pumping in Greeley. Joe looks forward to serving your septic tank needs!