Septic Tank Locating
Septic Tank Locating | Fort Collins Septic Tank Location
A septic system or septic tank may seem like one of those things that should be pretty obvious on a property, but this simply isn't always the case. Many of the people that we help with our septic tank services aren't even sure where the septic tank is located on their property. This may be because they have recently purchased a property and have never had issues with the septic tank or they never thought to ask. Septic tank locating is a pretty standard and affordable service for any septic repair company.
At Sep-Tech, we don't really blame you for this. There are many reasons why you may not know where your septic tank is, from lack of public records, improper inspection reports, or simply not having enough information. Septic tanks are installed on properties that cannot be served by public wastewater removal, and are usually buried beneath the ground making them difficult to locate without the proper equipment, or without knowing what you are looking for.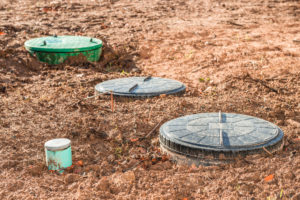 Locating the Septic Tank
Sep-Tech can come out to your home and locate the main sewer plumbing line that goes out from your home, and identify the main line that leads to your septic tank. This is done by carefully using a steel rod and probing through the soil to identify the locations of your line and tank. In general, septic tanks are only about 20 feet from the home, but this doesn't mean they can be easy to find. Knowing the location of your septic tank is the first step in safely maintaining your septic system. Let Sep-Tech come out and identify the location of your property's septic tank system so that you are able to perform regular maintenance like septic tank pumping and septic tank repair when the time comes.
Call us today to schedule a time for Sep-Tech to come out to your home and location your septic tank system!