Septic Tank Pumping
Septic Tank Pumping | Septic Tank Maintenance
The easiest thing you can do to maintain the septic tank system for your home is to schedule regular septic tank pumping. As time passes, sludge, grime, and debris build up in your septic tank. While you can take lifestyle steps to minimize the stress on your septic system, the accumulation of sludge in your septic tank is mostly unavoidable. Like most things, over the course of time your septic tank will be put under more and more stress to keep the waste and sewage from your home contained.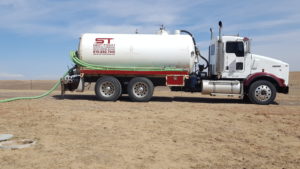 This is why it is imperative to stay on top of septic tank maintenance. In most cases, regular septic tank pumping and inspections will be enough to keep your septic system working properly and efficiently. If sewage is allowed to build up in your septic tank without proper cleaning and pumping, then you put your septic system at risk for failure – and trust us, septic systems can be very expensive to repair. Allowing your septic tank to fail or become damaged can cost you thousands of dollars in parts, labor, and clean-up.
To avoid disastrous costs and potential waste spillage on your property, do the smart thing and schedule regular septic tank pumping, cleaning, and maintenance with Sep-Tech. Joe Reed has been in the septic tank business since 2006, and is able to deliver professional and affordable septic tank services. Sep-Tech will come out to your home or property and locate your septic tank if needed, then assess the condition of your tank and how long it will be until you need to have the tank pumped and perhaps cleaned. If the tank is need of immediate care, Sep-Tech will discuss options with you right away so you get the quickest, most affordable, and effective care for your septic system.
If you are in need of septic tank pumping, call Sep-Tech today!